Mineral and Rock Hall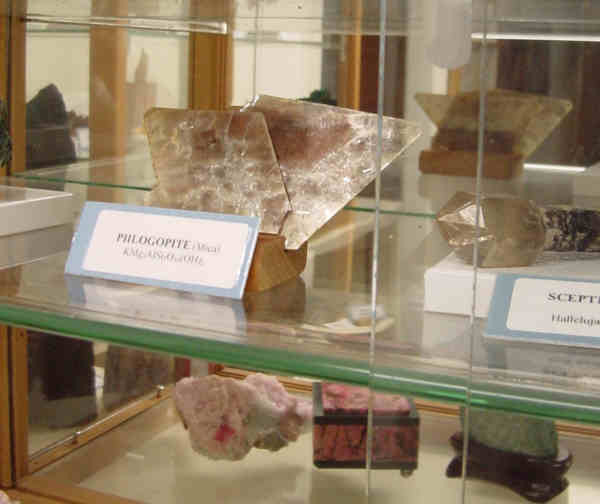 Take a journey through the Rock Cycle and see how the elements combine to form some of the worlds most beautiful minerals. Compare the different Chemical Families that make up minerals. Compare igneous, sedimentary, and metamorphic rocks in this small but attractive hall. In the hall are tools made by early Ohlones (local native Americans) in a Tools of Early Humans display.
Chemical Families of Minerals
element

element
+
O2

element
+
S2

element
+
SO4

element
+
CO3

element
+
BO3

element
+
SiO2

element
+
Halogens

native

oxide

sulfide

sulfate

carbonate

borate

silicate

halide

graphite
copper
sulfur

hematite
magnetite
limonite

galena
pyrite
sphalerite
chalcopyrite
bornite

gypsum

calcite
dolomite
azurite
malachite

borax
ulexite

quartz
feldspar
mica
kyanite
chrysocolla
talc
olivine
hornblende

fluorite
halite
Rock Cycle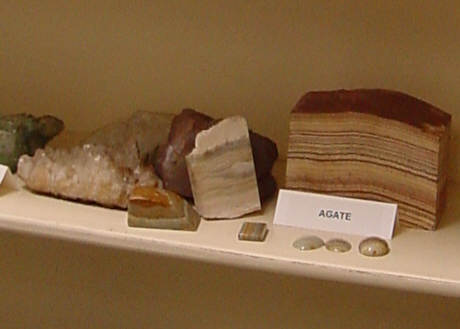 The Rock Cycle is a way to conceptually understand the creation and destruction of igneous, sedimentary, and metamorphic rocks on and within the crust of the Earth. Rocks form in many environments.
Identification of rocks can be difficult for beginners. Many people try to match a rock sample with a picture. This rarely works, as the same type of rock can have a great variety of appearances. Geologists classify rocks using two basic features: mineral composition and texture (appearance).