Walk through Time
featuring the Miller Stardome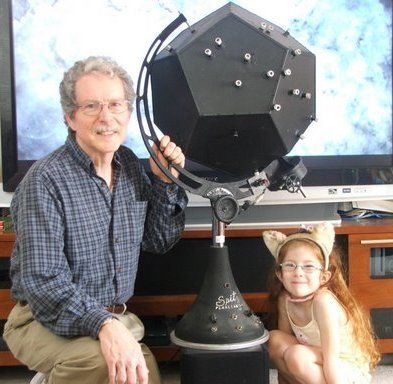 When Ken Miller approached the idea of having a Stardome at the Math Science Nucleus, board members Ray Wong and Joyce Blueford were a little skeptical. Ken convinced a group of Math Science Nucleus astronomy supporters including Michael Salvaggio and Bruce Prickett that a Stardome would add a lot of "Gee Wiz" to the Children's Natural History Museum. We are now proud of Miller Stardome, which Ken designed, installed, and donated for all of our visitors to enjoy.
Ken has been a Fremont resident for the last 30 years, and currently works as an Electronics Engineer in Palo Alto. Shortly after graduating from college, he joined the Air Force, and served 4 years as a communications management officer. While in the Air Force, he worked toward his Masterís Degree in Electrical Engineering. After separation from the Air Force, he came to the Bay Area and began work as a design engineer. He also taught a few classes at Foothill College and was awarded a Community College Teaching Credential. In the following years he volunteered at Recording for the Blind, helping produce numerous college textbooks on tape. During this same time period he helped to found the California Historical Radio Society, and served on its board of directors. He later became active in cave exploring, serving on the board of the San Francisco Bay Chapter of the National Speleological Society, and participating in research projects with the Cave Research Foundation. Later he became a volunteer docent for the State Park System, helping interpret nature for parks in the Santa Cruz Mountain district.
More recently he has developed an interest in astronomy and planetariums, and set up the Miller Stardome to share his hobby with the community. He receives substantial moral support from his wife Sam, their two children and their five grandchildren. Their granddaughter, Fiona, provided input to the planetarium design from the childís perspective.