Wesley Gordon Fossil Hall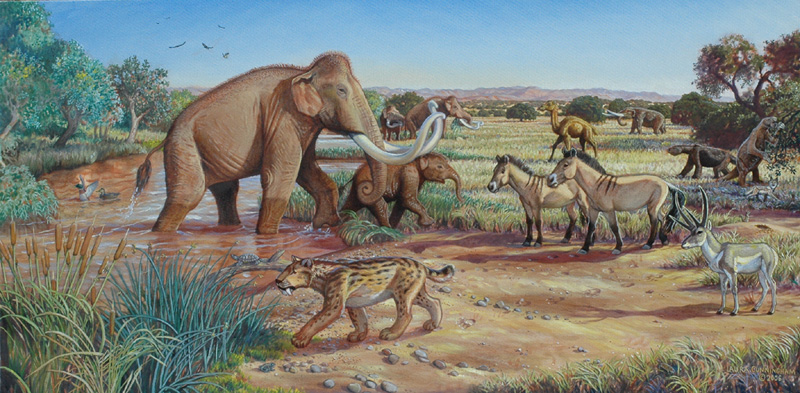 Irvingtonian Landscape by Laura Cunningham
This exhibit includes areas on the Irvington Fossils, Modern Bones, Environments Through Time, and Boy Paleontologist Room. It is named in honor of Wesley D. Gordon, who is the main contributor of materials in this hall.
Irvington Fossils. This fossil collection was excavated in the 1940's-60's in a quarry located in the Irvington area of Fremont by a group of young boys. The collection of fossils included mammoths, sabertooth cats, giant cave bears, dire wolves, camels, western horses, sloths, and pronghorn antelopes.
Rancholabrean Fossils. This fossil collection was excavated in 2013-14 by San Francisco Public Utilities Commission when they were retrofitting a pipe crossing the Hayward Fault.

Environments Through Time. Look at displays that show what organisms lived in the Paleozoic, Mesozoic, and Cenozoic periods.


Boy Paleontologist Room. The young boys who uncovered the largest collection of ice age fossils in the San Francisco Bay area spent over 365 days working in rough terrain, found an unmatched collection of Pleistocene fossils. Look at hats, hammers, and other pieces of equipment that the boys actually used.